Rufus, the popular free, open source tool to create bootable USB drives from Windows, has received an update to version 3.0, which includes a UI redesign, switched downloads to SSL, and more
Here is the step by step guide to Create a bootable Windows USB using Rufus. As we know that Win32 Disk Imager is best alternative to rufus but in case its not work than you can use the refus as alternative. Win32 Disk Imager have some amazing features and simple UI but somehow Rufus can take over to it !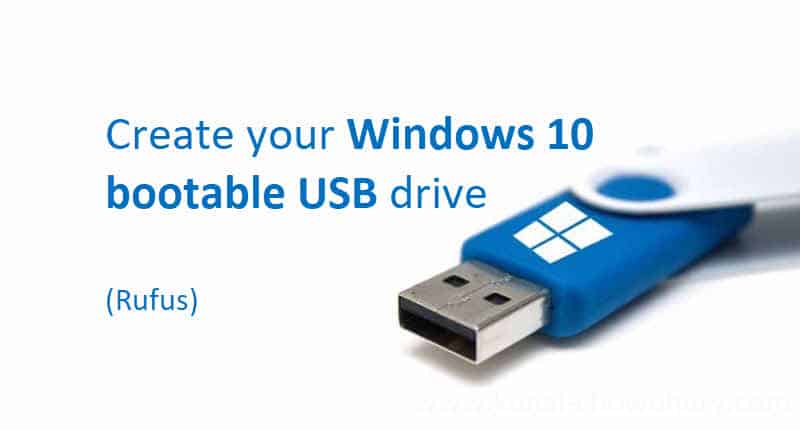 Rufus 3.0 changes:
The user interface was redesigned to follow the flow of user operations
All downloads now use SSL (Rufus needs to download some files when making bootable USB drives in some cases)
Added ARM64 support for UEFI:NTFS
Fix device enumeration delay issues (when querying floppy drives)
Linux ISO support:
– improved support of efi.imf files on Linux ISOs
– improved support for non-ISO9660 compliant openSUSE Leap ISOs
Improved translation support
Create a bootable windows USB drive used to be a somewhat daunting exercise for many people as it meant using the command prompt to access Disk Part which is a great little command-line utility.  Luckily for us, there are now far simpler ways of achieving this, by using free software like Rufus to do the hard work instead. Rufus allows you to choose the partition format, Please note though that Rufus is a Windows only utility alternatively you can use win32diskimager portable.
if your device is based on MBR partition scheme for Legacy BIOS, the USB drive would be created for that order and cannot be used on a computer that uses GPT partition scheme for UEFI(which is used by Most of the devices)
Rufus gives us flexibility of choosing what partition scheme you want from:
MBR for BIOS
MBR for UEFI
GPT for UEFI
Rufus have a lot goods features that make it number one software in these category.
Rufus can easily create bootable USB's for most bootable ISO, including among others:
Windows XP (SP2) (not Windows XP x64)
Windows Server 2003 R2
Windows 7
Windows 8 and Windows 8.1
Windows 10
NT Password Registry Editor
Ultimate Boot CD
GParted
Partition Magic
Debian and many other
How to create a bootable Windows USB drive using Rufus
Things you will need:
The ISO File which you want to write in USB Drive. Mostly we use OS like windows 7, windows 10 etc. So if you have an ISO file ready then go for next step.
The next thing you need is obviously latest version of Rufus software
And the third and most important thing you need is a USB drive which you want to make it bootable. I usually prefer USB 3.0 because it have more speed also it should be have enough space that it can store an ISO file. Usually a 8GB USB Stick will do the work!
Once all these above pre steps are done then your are ready to make a USB Drive bootable using Rufus utility tool. Just follow some simple steps as stated below:
Open rufus; forget about settings its already done it self!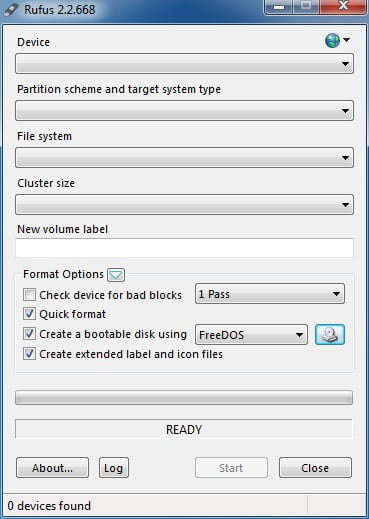 By default, it will appear to have many of the options blank until you connect your USB. Once you connect the USB, these fields will be automatically filled for you.
Next, connect your USB to your computer.
Now we need to select our ISO. (in my case the Windows 7 ISO) Select the icon highlighted as shown below, which will let you browse for the required ISO file.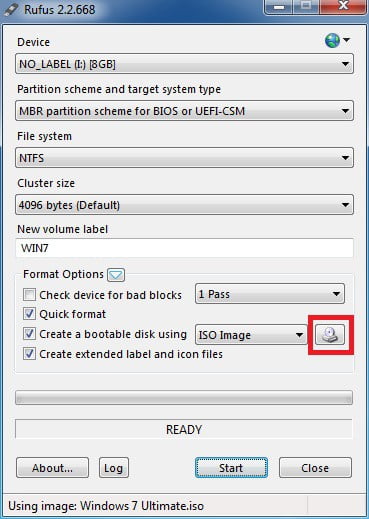 Select the file by left clicking on it once and then clicking on Open.
Rufus will now have filled out the fields for you. All you have to do now is hit Start.
Click OK, to start.
How long the process will take to complete will depend on the specs of your computer, the USB (read/write speeds) and the size of the ISO you are using.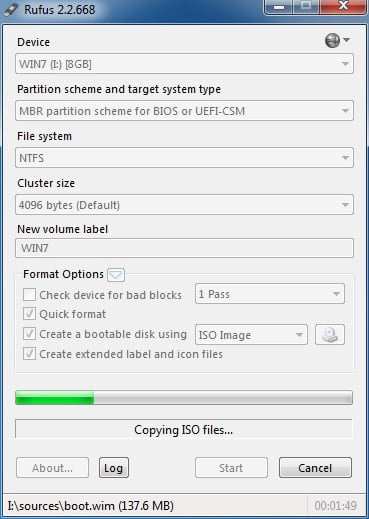 And You're done here!
Just let us know about how easy is rufus for you to create a bootable Windows USB and what kind of difficulties you faced while flashing any OS in USB drive in comment section!