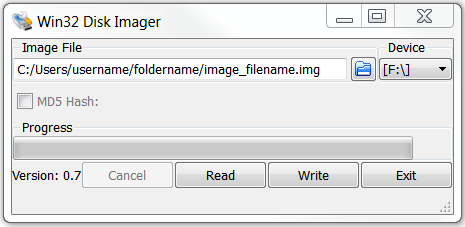 Win32 Disk Imager Download
Win32 Disk Imager is a program which write a raw disk image to a removable device. Download Win32 Disk Imager and follow step by step file to write ISO File to your USB Drive !
How to create bootable USB using Win32 Disk Imager
DOWNLOAD FILES
To create a bootable drive all you need is ISO file (Which you wants to write) and Win32 Disk Imager (Which you can download from here)
FORMAT THE REMOVABLE DRIVE
Before you perform writing it is always a good practice to plug and format the removable drive / USB Stick. (You can skip this step as the tool will automatically perform this step)
SELECT THE ISO IMAGE
Now Open the Win32 Disk Imager and select the ISO file which you want to write also select the Drive (USB Stick) from the option.
WRITING THE ISO IMAGE
After selecting file path, click on the 'Write' button. A pop-up will appears simply click on 'Yes'. After completing file transfer a Success pop up will appear and you will able to remove the USB Stick, Done!
STEP – 1: Getting your ISO File.
This is a very first and important step. In order to write any ISO Image file you have get a copy of it first. basically we require to write any OS like windows XP or Windows 10 so all you need is an ISO image of that OS. You must be take care that it should not be corrupted.
Getting a copy of windows in ISO file is very is as its available on internet. However if you don't know where you can get Windows 10 ISO image to make it bootable i will help you here!
Simply follow these steps to get a fresh copy of any OS like Windows 10:
Before you download the tool make sure you have:
An internet connection (internet service provider fees may apply).
Sufficient data storage available on a computer, USB or external drive for the download.
A blank USB flash drive with at least 8GB of space or blank DVD (and DVD burner) if you want to create media. We recommend using a blank USB or blank DVD, because any content on it will be deleted.
When burning a DVD from an ISO file, if you are told the disc image file is too large you will need to use Dual Layer (DL) DVD Media.
Check a few things on the PC where you want to install Windows 10:
64-bit or 32-bit processor (CPU). You'll create either a 64-bit or 32-bit version of Windows 10. To check this on your PC, go to PC info in PC settings or System in Control Panel, and look for System type.
System requirements. Make sure the PC meets the system requirements for Windows 10. We also recommend going to the PC manufacturer's website for additional info about updated drivers and hardware compatibility.
Language in Windows. You'll need to choose the same language when you install Windows 10. To see what language you're currently using, go to Time and language in PC settings or Region in Control Panel.
Edition of Windows. You should also choose the same edition of Windows. To check what edition you're currently running, go to PC info in PC settings or System in Control Panel, and look for Windows edition.
Step -2 Format your Flash Drive
In this step you need to make your pendrive/ flash drive writable you need to format it first. To perform a quick format Insert your Flash drive in USB Port then go to my computer and right click on Flash drive and click on format
Now click on start and it will be formatted!
Step-3: Writing the ISO image on flash drive
Now the most important step! First of all Open the Win32 Disk Imager and click on folder icon and navigate the folder where you have downloaded the ISO image; in most of the time it will check for download folder and by default it will pick only ISO file type. So you easily select it.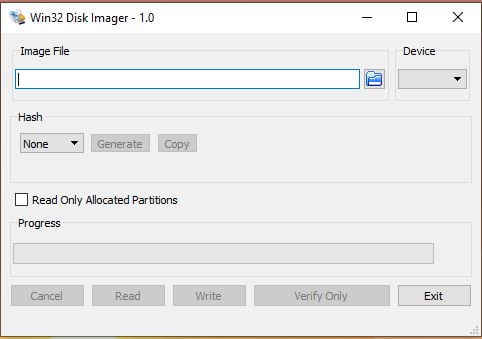 The simple interface of Win32 Disk Imager ISO allow you to easily understand and simplify the file transfer process. After selecting the ISO Image which you want to write and USB Drive all you need to hit the 'Write' button.

Just after clicking on Write button a pop-up will display, for confirmation to continue. After selecting 'Yes', a progress bar will show, along with the transfer speed, so that you can monitor the progress until completion. On the Completion of transfer, A Success massage will display which means it perfectly Written the ISO File to USB Drive!
After successful writing the ISO Image file to pendrive you will be able to remove it!
System Requirements
Since it is a light weight software it does not consume more than 44 MB of your disk space on your computer However we need to check whether it does work on your system well? It allows you to write boot images onto an SD flash device or a USB drive.
Most of the time it will work in each and every machine until and unless your PC is a special case. The developers of this software crafted this software so compact that and very simple UI + Easy to use interface that you want feel any hustle while using this software and you will able to easily write an ISO image no any flash drive!
| | |
| --- | --- |
| System | Windows XP, Windows 7, Windows 8.1 and Windows 10 |
| Minimum RAM | 512 MB |
| Minimum Space Required | 100 MB |
Features
This tool allow you to Flash / burn any ISO File and can make a bootable USB Drive! This tools mostly use to flash windows OS also Ubuntu can be Write on Drive using win32 Disk Imager. It's an opensource software with very least bugs and easy to use interface. This utility can not write CD-ROMs. USB Floppy is NOT supported at this time.
Verify Image – Now you can verify an image file with a device. This compares the image file to the device, not the device to the image file (i.e. if you write a 2G image file to an 8G device, it will only read 2G of the device for comparison).
Additional checksums – Added SHA1 and SHA256 checksums.
Read Only Allocated Partitions – Option to read only to the end of the defined partition(s). Ex: Write a 2G image to a 32G device, reading it to a new file will only read to the end of the defined partition (2G).
Save last opened folder – The program will now store the last used folder in
the Windows registry and default to it on next execution.
Additional language translations
Download Win32 Disk Imager
| | |
| --- | --- |
| File Name | Win32DiskImager-1.0.0-install.exe |
| Size | 12.6 MB |
| last Update | January 12, 2022 |
| Author | Tobin Davis |
This release is for Windows 7/8.1/10. It will should also work on Windows Server 2008/2012/2016 (although not tested by the developmers). For Windows XP/Vista, please use v0.9
Frequently Asked Questions
Side by Side comparison of Win32DiskImager and Rufus
| | Win32DiskImager | Rufus | Windows Media Creation tool |
| --- | --- | --- | --- |
| Support OS (Platform on which application can run) | Windows | Windows | Windows |
| Can make Bootable Windows OS USB? | Yes | Yes | Yes |
| Can make Bootable Linux / Ubuntu USB? | Yes | Yes | No |
| Size of the application | 12.6 MB | 1.1 MB | 18.5 MB |
| Average time to make bootable USB | 7 sec | 4 sec | N/A |
| GPT/UEFI Support with NTFS UEFI Support | Yes | Yes | N/A |
| Multi-language support | No | Yes | No |
| How to check Hashes? | Manually using PowerShell | There is an option: "#" in bottom; just hit it! | MCT Download windows directly so less chances of corrupted ISO file |
| Multiboot available? | No | No | No |
Basic Terms:
NTFS: "New Technology Files System" is the newer drive format. Microsoft introduced NTFS in 1993, as a component of the corporate-oriented Windows NT 3.1 and then Windows 2000, though it didn't become common on consumer PCs until Windows XP in 2001. Windows 7 and 8 default to NTFS format on new PCs.
FAT32: This strange term refers to the way Windows stores data on your hard drive. "FAT" stands for "File Allocation Table," which keeps track of all your files and helps the computer locate them on the disk. FAT32 supports up to 2 terabytes of hard disk storage.